Ofsted & KS5 Performance
Ofsted - 'Good' in all areas!
We are delighted to have been rated as 'Good' in all areas by Ofsted following our recent inspection in September 2023. Please download our full Ofsted report by clicking here.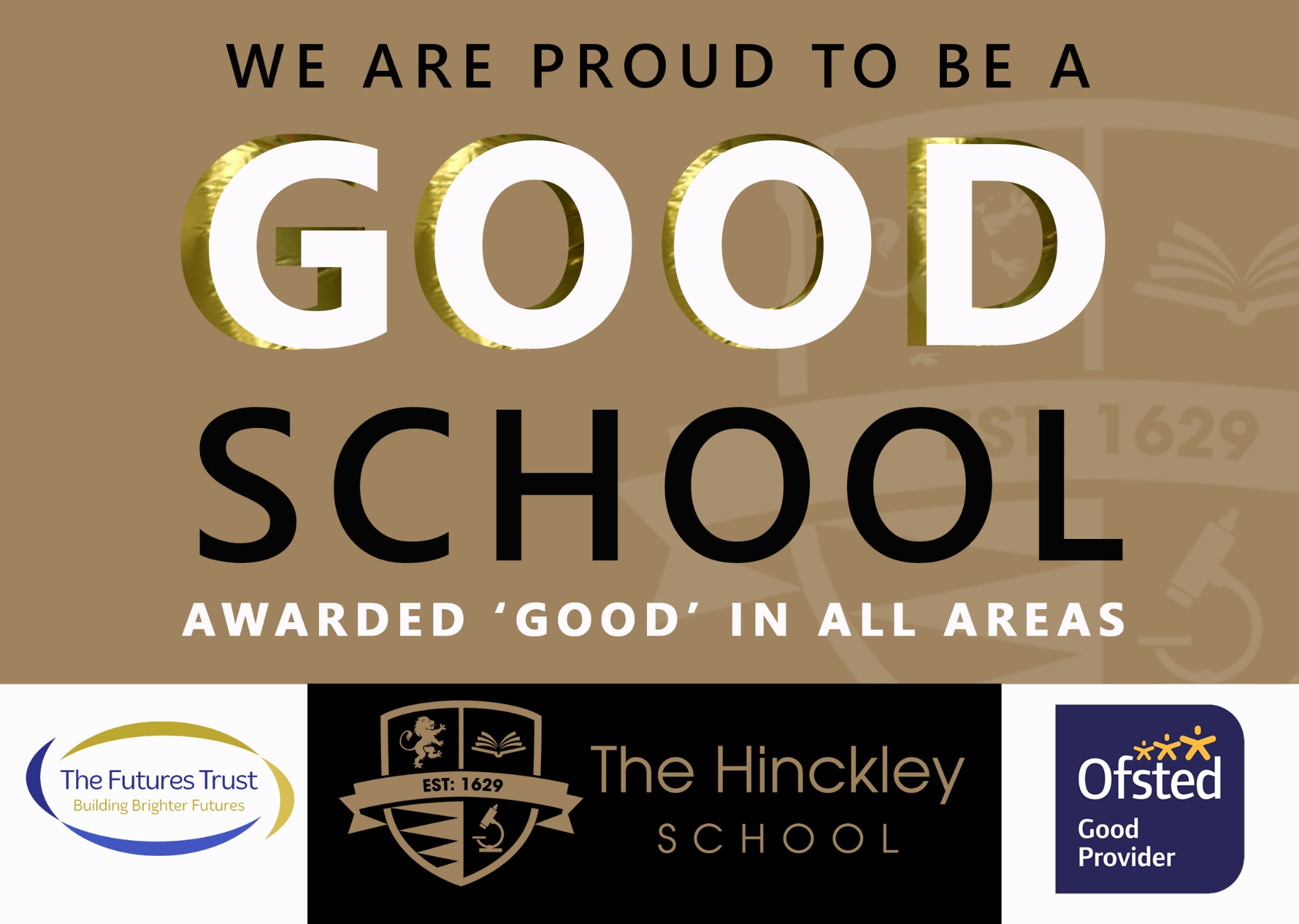 The Hinckley School is regularly inspected by Ofsted, who are the governing body for school inspection. Ofsted are the official body for inspecting schools.
Please use the links below to view or download our recent Ofsted reports.
Compare school and college performance
For data on schools and colleges, the Department for Education (DfE) has Performance Tables. It can be used to compare performance data across schools and colleges, and to check individual providers, using a similar graphical presentation to the Data Dashboard.
Performance Data KS5
KS5 Accountability Measures

2018/2019

2019/2020

2020/2021

Progress

A Level Level 3 Value Added

-0.16

0.29

NA

Academic Level 3 Value Added

-0.15

0.29

NA

Applied General Level 3 Value Added

0.17

0.59

NA

Attainment

APS per A Level entry expressed as a grade

C

B-

B

APS per A Level entry

30.22

33.7

39.87

APS per academic entry expressed as a grade

C

B-

B

APS per academic entry

29.67

35.79

39.96

APS per applied general entry expressed as a vocational grade

Dist-

Dist-

Dist-

APS per applied general entry

33.33

33.27

32.64

APS per tech level entry expressed as a vocational grade

NA

NA

NA

APS per tech level entry

NA

NA

NA

English and Maths Progress

Average progress made in English

0.28

-

Average progress made in Maths

0.64

-

Retention

% of students completing A Level programmes

100

100

100

% of students completing Level 3 academic programmes

100

100

100

% of students completing Level 3 applied general programmes

100

100

100

Destinations

% of students starting a UK university

66

63

66

% of students starting an apprenticeship

7

6

10

% of students entering employment

21

18

14

% of students in some other form of study or employment

6

13

4
| A Level Results | 2018/2019 | 2019/2020 | 2020/2021 |
| --- | --- | --- | --- |
| %A*-A | 15 | 29 | 37 |
| %A*-B | 36 | 54 | 68 |
| %A*-E | 98 | 100 | 99 |
www.compare-school-performance.service.gov.uk/hinckley-academy-and-john-cleveland-sixth-form-centre/secondary