Future Scientists Learn Practical Skills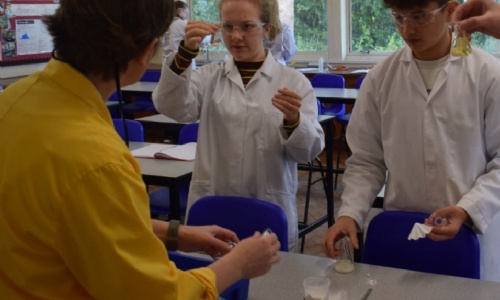 Sharing an insight into recent Biology and Chemistry practicals at JC6
Developing Organic Synthesis Skills
This week Year 13 Chemistry students completed one of the twelve practical activities required to gain the separate endorsement of practical skills that sits alongside their A-Level qualification.
In their most recent practical, the class were led by Dr Smith, Head of Science as they developed their organic synthesis skills during the preparation of an organic liquid, the ester butyl ethanoate.
Kidney Dissection
Year 13 Biology students are currently studying Excretion and have been learning about the kidney as an excretory organ.
Miss Cook, Teacher of Science, shared, "Today students dissected a kidney so that they could observe the
structures they have been learning about. The students then had to label the parts of the kidney to show their understanding. Finally, students had to draw the kidney considering their scientific drawing skills which are required for their practical endorsement."