Supporting our Community - Lawrence House Christmas Appeal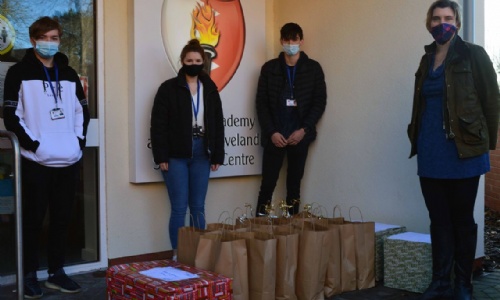 Our annual Lawrence House Christmas Appeal
JC6 students have once again shown their support to Lawrence House in Hinckley through their now annual fundraising events, when they take a moment to focus on others over the festive period. This year, as well as the tradition of making Lawrence House residents goodie bags, students also staged additional events to further support the local charity.

JC6 students worked in their tutor groups to create a bag full of gifts for one of the young men or women staying at Lawrence House, part of the Hinckley Homeless Group. These thoughtful gifts ranged from toiletries and hot chocolate, to sweets and mindful colouring books, with students putting a lot of time and thought into their goodie bags.

Paula Tomkins, John Cleveland Sixth Form Administrator and co-ordinator of the Lawrence House Christmas Appeal commented, "as the young people in Lawrence House are between 16 – 25 years of age it is a cause particularly close to our students' hearts. They have really thought about what it must be like to be in someone else's shoes and have all worked together to create a truly special gift bag to put a smile on someone's face. It is great to know that our students' acts of kindness will make a real difference"

This year's event was even bigger than ever, with JC6 students getting the younger Hinckley Academy pupils involved too by staging a non-uniform day. This larger scale event meant that every £1 students donated for wearing Christmas non-uniform could also be donated to Lawrence House, alongside the goodie bags, helping to provide essential accommodation and support to those in need.

Ms Paterson said, "In what has been a very challenging year, it feels more important than ever for us all to be supporting others over the festive period and I am so proud that JC6 has once again been able to support such a vital local charity."

Louise Adams, Project Manager from the Hinckley Homeless Group said, "It's been a very different year than anyone imagined and has brought many challenges in the running of Lawrence House. JC6 giving presents and fundraising for Lawrence House, at what is a difficult time for so many, is amazing. This thoughtfulness ensures that everyone is supported and remembered at Christmas. Thank you to all the students and staff involved."

Everybody here at John Cleveland Sixth Form Centre would like to wish all the residents of Lawrence House a very 'Merry Christmas and a Happy New Year' and hope they enjoy their goodie bags full of festive cheer!