Students Deliver EPQ Presentations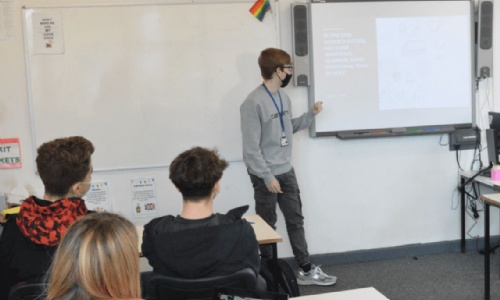 The Extended Project Qualification gives JC6 students an additional platform to succeed in preparation for university study.
Monday saw the launch of this year's JC6 EPQ Programme with a kick off presentation to year 12 students. Over forty eager students expressed an interest in the qualification this year and it is wonderful to see how committed our students are to capitalising on additional opportunities for success.
In addition to A Level and BTEC qualifications, JC6 offers sixth form students the option to secure the Extended Project Qualification (EPQ). EPQ students have the freedom to explore topics in greater depth and gain an additional qualification that has its own UCAS point value. The qualification is highly regarded by universities, employers and apprenticeship providers and year after year students who complete an EPQ are able to accept places at top Russell Group Universities.

Alongside the year 12 launch, EPQ students in year 13 completed their final presentations this week. After finishing their projects, students are required to present to an audience and answer questions.

EPQ project titles this year included, 'In the real number system, are some numbers more irrational than others?', 'To what extent has UK legislation and social factors influenced the perception of firearm use for modern day society' and 'How well has encryption protected our data through the technological age?' Mr Boast, KS5 Director for Learning, commenting how impressed he was the presentations, sharing how students presented with, 'confidence and maturity'.