De Montfort University Personal Statement Workshops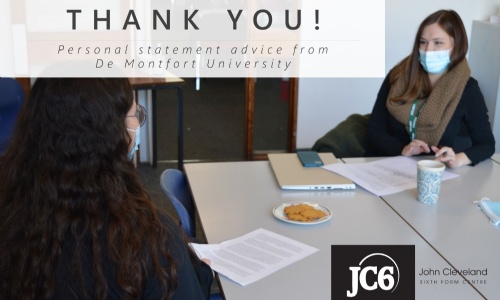 JC6 students received personal statement advice directly from university staff
JC6 students were joined by Faye, a Liaison Officer from De Montfort University on Wednesday and
Thursday this week, who worked with students to fine tune their personal statements ahead of university applications.
This annual session allows our sixth form students to get support directly from university professionals in order to tailor their personal statement to a particular course or university. In addition to support from the JC6 team, these sessions allow students to discuss their personal statement face to face with someone who knows first hand what a university admissions teams will be looking for. Over thirty students signed up and each one was given constructive feedback and notes to take away following the session — another invaluable opportunity for our sixth form students!